Milcolores Design.Tf is the Artisan Workshop created by Patricia Guerrero Duque, fabric decorator, in 2006.
The production, which is marketed in shops and fairs of Tenerife, consists mainly of standart and silk scarves, cotton sarongs, tinted and hand-made blouses, man scarves and painted and patterned fans in different woods.
The techniques used are the result of her research and experience. For it, she rescues everyday objects such as elastics, meshes, tweezers, corks, sponges, etc. and apply them in fabrics to achieve diverse effects. The materials: clothing dyes, silk paintings, gutas, brushes, dies, templates …
Her designs have color as the main ingredient, hence the name (A Thousand Colors). Colors are the main source of inspiration and their combination is a stimulating and always creative exercise that gives life to cheerful, fresh and very personal objects and garments.
Official stores of Cabildo (Council) de Tenerife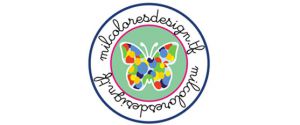 MILCOLORES DESIGN
Patricia Guerrero Duque
Nº carné artesano: 244/01
+34 922 841781