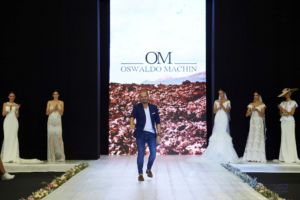 The II Young Designers Contest, organized by the Cabildo (Council) of Tenerife, was already regional in nature due to the success of the first edition and was held at the Teatro Leal in San Cristóbal de La Laguna in October 2009. The event was already open to young people of all the Canary Islands, said the Vice President and Insular Councilor of the Employment, Trade, Industry and Socioeconomic Development area, Efrain Medina.
The winner in this edition was the young designer from Lanzarote Oswaldo Machín with the collection "Naturaleza Móvil" (Moving Nature). This young talent made his design and pattern studies at the famous school of Coruña "Goymar" and worked in the design department of Creaciones Nalia (Zamora) and with the brand Deraulde Novias from Madrid.
Oswaldo fondly remembers the "Nature Mobile" collection that made him worthy of the award, "it was an ode to the work of Manrique and the nature, generated just from the distance to my island, hence the result, with a force and a movement that could be appreciated at that time in the Teatro Leal of La Laguna. The contest helped me to believe in my work, to give myself a boost of energy and to continue forward to see that my creations liked and were admired".
In addition, obtaining the highest award, caused in Lanzarote a wave of acknowledgement and awakening in the authorities of the Islands that began to be interested in making policies to boost the Fashion sector, proving that behind this idea there is not only creativity but also employment creation.
In 2009, the same year he won the Young Designers Contest, he created his own Brand and since then he has taken a meteoric career participating in such important fairs as the SIIM. Account with Atelier / Showroom in Madrid, becoming more visible and dressing different celebrities such as Malú, Vanesa Romero or Ruth Lorenzo.
In 2012 he opened a new Atelier / Showroom space in Lanzarote where he creates, makes and distributes his bridal collections.
In 2013, its commercial expansion began, after strengthening its local clientele, with the distribution of the "Collection of Eucharist 2015" in stores and specialized boutiques of the Canary Islands and the Peninsula.
He recently participated in Feboda 2017 with the new "Spirit" bridal collection designed for brides looking for personalized designs with detailed cuts. Machín, who continues to show off minimalist patterns, presented mermaid-cut dresses for those who wore fabrics such as crepe georgette and tulle, mixed with trimmings and crystal embroidery.