The acting socioeconomic vice-president, Efraín Medina, explains that the companies interested in parading on the catwalk can register until September 1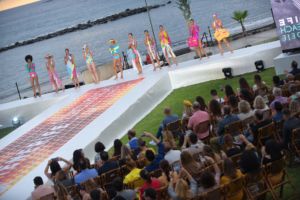 Tenerife– 18/06/2019. The Cabildo de Tenerife and the City Council of Adeje have opened the registration period to participate in the third edition of 'Tenerife Fashion Beach Costa Adeje' (TFBCA), an event that has already been consolidated within the framework of tourism, fashion and economic development. The new edition of this event will take place in the southern municipality between October 14 and 20.
The acting socio-economic vice-president of the Cabildo, Efraín Medina, explained that companies interested in making their products known in the different catwalks can already register, with a deadline on September 1. Also, Medina highlighted the good results obtained in the two previous editions of this event that brings together fashion, tourism and economic development. "We are already working on offering new actions, in addition to continuing to host events that have had a great reception, like the bloggers meeting or the commercial catwalk," he said.
Companies interested in participating in the different shows can consult the bases on the website of Tenerife Fashion Beach (https://www.tenerifefashionbeachcostaadeje.com). Both Tenerife Moda and Emprende Moda, as well as national and international companies, will be able to participate. The applications and the necessary documentation must be presented in the email dpagessanchez@yahoo.es. Among other aspects, the trajectory, commercialization, the quality of the proposals and the collections of the aspiring firms will be considered for the selection.
Repercussion
The last edition of 'Tenerife Fashion Beach Costa Adeje' was attended by a multitude of media expressly invited to know, not only the proposals on the catwalk, but also the tourist destination. It is estimated that the media impact has been able to generate an advertising return of approximately two million euros. This is because the information was disseminated among more than 1,000 media outlets around the world.
In addition, the presence at the event of internationally renowned personalities such as the ex-model and presenter Nieves Álvarez and the entrepreneur and influencer Eliad Cohen caused an important impact on social networks.