10 Years of History of the Young Designers Contest of Tenerife Moda from the Cabildo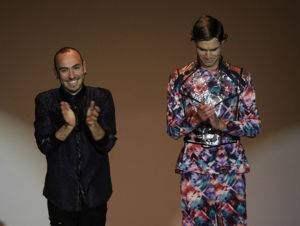 Óliver Jiménez, with his collection 'Psicodiagnóstico', won the 'VI Young Designers Contest' that was held at the La Recova Art Center in Santa Cruz de Tenerife with a total of five finalists. After six editions, the contest, organized by the Cabildo de Tenerife, is consolidated as a platform to promote entrepreneurial projects and new values of the sector.
Trained in fashion, with experience in international catwalks, the Gran Canaria designer Oliver Jiménez González works as a decorator in Barcelona, where he resides. His proposal for this contest was a men's collection "inspired by the Rorscharch and its inkblot Test with images that, according to what one interprets in it, the psychologist diagnoses one or another symptom," he explained.
He wanted to surprise the jury and the attendees with a risky proposal and with which he feels totally identified. "This is me and that is what I would like to wear," he assured. The collection was divided into two parts: in one, whites and blacks with shades of gray and color predominated, and in another, which was full color, yellow, fuchsia, blue and orange stood out. The common material was the transparent rubber and the garments ranged from riding breeches, shorts, skinny jeans, shirts, raincoats, capes, kilts and, above all, bibs.