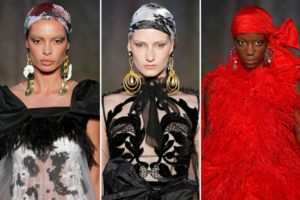 The designer of the brand, Ros Jiménez, has created a set of exclusive pieces for the haute couture collection that was presented today
Tenerife– 03/07/2019. The firm Roselinde, as part of the Cabildo's Tenerife Moda program, breaks into Paris Haute Couture Week at the hands of the international fashion firm Yolancris. The Spanish embassy in the French capital has hosted today, day 3, the parade of both firms with the assistance of an important representation of specialized media.
For this occasion, the designer of the firm from Tenerife, Ros Jiménez, has created, under the French name 'an eternnel recommençement', a set of exclusive pieces for the FW19 collection of Yolancris haute couture that attends this important event for the second time .
Participating in this international fashion event is an important boost for the firm Roselinde that, soaking up the universe of the artist Louis Féraud and his couture designs, has reflected in necklaces, rings, bracelets and earrings the inspiration of the Yolancris collection called 'All the springs of a winter'. When designing these exclusive pieces, Roselinde has taken into account geometric prints and the predominance of black and white colors, using gold as a base, and playing with the shapes and sizes of the high jewelery of the 60s. Faithful to its traditional style, the collection presents a studied combination of materials and components such as zamak, cut glass, pearls, resin and nacre, among others, also incorporating old metal buttons from a private collection.
Yolancris is a brand specialized in party and wedding dresses located in Barcelona. The firm was founded in 2005 by the sisters Yolanda and Cristina, but with a family heritage dating back to 1985, when her mother, a pioneer in clothing and bridal business, introduced the two sisters in the world of sewing. After 20 years in the business, and with a team of seamstresses and artisans who have been with them since its inception, Yolancris is committed to the quality and thoroughness of local production and crafts. The firm attends the fashion weeks of Paris, New York and Barcelona, and is present in more than 30 countries. In January 2019 he debuted in Paris with a parade during the Haute Couture week.