The socioeconomic vice-president of the Cabildo, Efraín Medina, recalls that the objective of the Island Corporation is to promote the commercialization of the companies
On Friday 4 and Saturday 5 the firm will go up to the catwalk in the Magic Day by FIMI that is celebrated in Valencia until Sunday
Tenerife– 02/04/2018. The firm Javilar, belonging to the group Tenerife Moda from the Cabildo, will be parading in Magic Day by FIMI, the international fair organized by Feria Valencia and focused on childrenswear, footwear and accessories held in Valencia until next Sunday 6. Javilar Kids will climb to the catwalk with Moana, its new collection of communion and ceremony 2019 that maintains its characteristic essence: design and confectionary hundred percent canaries.
Thanks to an agreement with the Cabildo de Lanzarote, the designer Oswaldo Machín, winner of the Young Designers Competition of Tenerife Moda in 2009, who, four years later, began his commercial expansion, after securing the local public, will also be at the Fair, with the distribution of the Eucharist Collection for 2015 in stores and specialized boutiques in the Canary Islands and the Peninsula.
Javilar: Moana Collection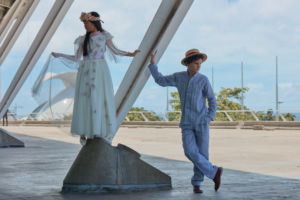 Loyal to its roots, Javilar Kids mixes the traditional Canarian crafts, the draft (el calado), with the textile technique of the rosette. On this occasion, they call the expert hands of María Dolores López Luzardo, from Tenerife, and Antonio Rodríguez Ruiz, who made these designs unique and exclusive.
The socioeconomic vice-president of the Cabildo, Efraín Medina, values the more than 20 years of experience of this firm that "continues to work with a clear reference as is the Canarian identity in its garments and designs". Also, Medina recalls that the participation of the companies of Tenerife Moda in fairs "reinforces the clear objective of the Council to promote the commercialization of companies and, consequently, the economic development and the generation of employment".
Javilar will parade on Friday 5 at 1:00 pm and Saturday 5, at 7:00 p.m. For the girls, they have designed dresses made by hand in natural fabrics, silk mikado, organza, tulle and with a romantic and magical style. With different cuts and colors ranging from off-white to ash, lavender and clear water. For the children, they propose linen, giving way to Denin in light garments to dress modern pirates with style.
Oswaldo Machín: Rustic Love Collection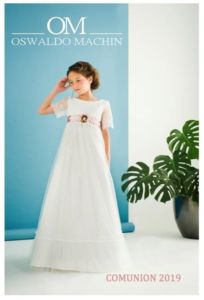 Rustic Love is the suggestive title of the new Eucharist collection for 2019 by Oswaldo Machín.
A collection that continues with the essence of the firm, but that in this new campaign turns to a more boho chic and retro aesthetics with older looking fabrics with a vintage air.
Embroidered tulles, silky tulles, linens, gazares and old lacing give shape to a collection that is divided into two lines. Dresses of vertical lines with high waist and body with casing and lace edgin, with original sleeves in natural and raw colors in white so that they stand out.
Dresses with flared skirts in plain organza and tulle embroidered with more traditional boat necklines but with a chic touch thanks to the sashes and flowers of the collection that are worked in silk and organza with details of lace edging and flowers with tulle moulage  silky base.