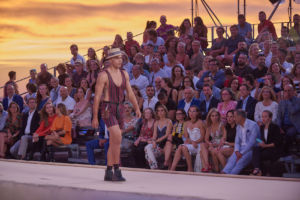 'Tenerife Fashion Beach Costa Adeje', organized by the Cabildo (Council) of Tenerife and the City Council of Adeje, celebrates its second edition between 15 and 20 October, becoming a consolidated event that combines tourism and fashion with the aim of strengthening the image of the Island. In this sense, this meeting bets in this second edition to continue in the municipality and incorporates important novelties in its program of activities.
The socio-economic vice-president of the Cabildo, Efraín Medina, stressed that in this edition the fashion show seeks the promotion of entrepreneurship in the textile sector and favoring marketing through dynamic actions such as tourism. He also recalled the success achieved last year and predicted that it will be repeated in this second edition.
The fashion event repeats its location for the second year with the aim of reinforcing the synergies between the tourist and textile sectors in Adeje. In this edition, the parade will incorporate new features, including a second stage at Fañabé beach, dedicated to the offer and trade of the trends in the swimwear season.
'Tenerife Fashion Beach Costa Adeje' emerges as a benchmark of the latest trends in the fashion industry specialized in bathing and as a meeting place for experts in the field. Likewise, the celebration of this event also seeks the tourist promotion of the Island and the municipality, as an ideal destination in which fashion and climate form a single concept.