El País Semanal dedicates a tribute to the feathers, protagonists in the most exquisite outfits, by the hand of the prestigious stylist Renée López de Haro and the photographer Manuel Outumuro, in a tandem of perfect talent.
The seam of Tenerife Moda continues to advance step by step attracting stylists and creating magnificent editorials. Not in vain, the American stylist and journalist, Renée Lóez de Haro, who is responsible for the fashion and styling section of El País Semanal, and an eminence of style in our country, has selected garments by Byloleiro and Leo Martínez for his last editorial in the Country.
These two firms attached to the Tenerife Moda collective, of the Island Council, a program for the promotion of the textile sector on the island, are part of this work together with other leading design firms.
On this occasion, the publishing house "Ave del paraíso" makes a tribute to the exquisiteness and glamor of the twenties and to the feathers as indisputable protagonists of that era. And yes, feathers are a trend not only for haute couture, a classic, but for the street style whose appliques continue to reinvent the most classic garments.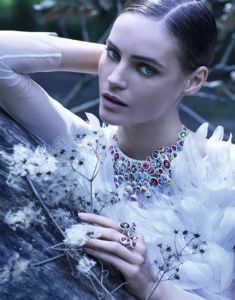 White tulle dress with long sleeves and body covered with white feathers, both from the latest collection 2019 by By Loliero, with Swarovski jewelry.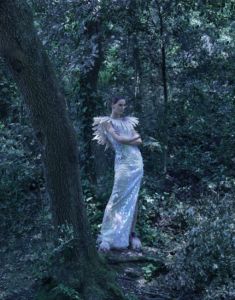 Embroidered long dress with large sequins and opening on one side of Roberto Verino, the styling is complemented by a necklace of pink and white feathers with Leo Martinez embroidery and strass, Lola & Lo sandals and Swaroski jewelry.
We can not fail to mention the great promoting work of the Communication and Fashion Press Office of Mila Mentabol. A reference in the capital of Spain of the companies of Tenerife Moda for stylists and distributors of the sector.
Link to the original editorial in Spanish (El País)