The socio-economic vice president, Efraín Medina, and the municipality councilor Ermitas Moreira have met with the organizers of the event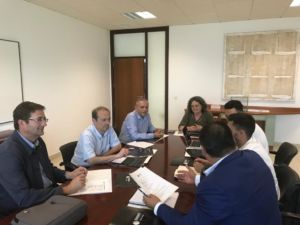 Tenerife– 08/07/2019. The Cabildo of Tenerife and the City Council of Adeje advance in the details of the third edition of 'Tenerife Fashion Beach Costa Adeje' (TFBCA), an event that has already been consolidated within the framework of tourism, fashion and economic development. The new edition of this event will take place in the southern municipality between October 14 and 20. For this event, the socio-economic vice president, Efraín Medina, and the Councilor for Tourism of Adeje, Ermitas Moreira, recently met with some of the organizers in order to outline some of the aspects of this show.
The person in charge explained that during the celebration of the work table it was agreed that "in this new edition, we will bet on giving new impetus to the different activities related to commercial revitalization, giving the opportunity for the commercial network of the south of the Island to participate in the different programmed activities. We also plan to boost environmental awareness in this very important show through respect and care for our coastline and our beaches," he said.
A benchmark in the sector.
'Tenerife Fashion Beach Costa Adeje' has become a benchmark for the latest trends in the specialty bathroom fashion industry and a meeting point for international experts in the field. Similarly, it seeks to take another step in the promotion of the Island and the municipality as an ideal destination under the fashion and climate binomial.
Companies interested in participating in the various parades can consult the bases on the Tenerife Fashion Beach website (https://www.tenerifefashionbeachcostaadeje.com). Both Tenerife Moda and Emprende Moda firms, as well as national and international companies may participate. The applications and the necessary documentation must be submitted in the email dpagessanchez@yahoo.es. Among other aspects, the trajectory, commercialization, quality of the proposals and the collections of the aspiring firms will be attended for the selection.