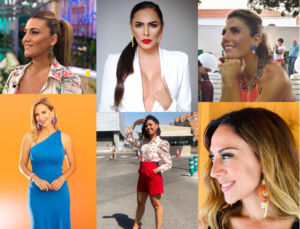 Roselinde, a firm attached to the Tenerife Moda from the Cabildo program, continues to find a place among celebrity and influencers looks.
Many are the celebrities who wear pieces of the firm in their public appearances, such as Mónica Naranjo, Nuria Marín, Beatriz Jarrín, Angie Cárdenas, Amor Romeira and the Canary Islands news anchor Pilar Rumeu and Laura Afonso, among others, who complement their oufits and making them visible to their followers on social networks and television appearances.
One of the most recurring presenters in wearing the firm is Carlota Corredera, presenter of Telecinco magazine "Sálvame", who has already carried numerous pieces of the PV19 Collection "Calendula" in her last appearances in the program.
The popular presenter with her styling team complements her looks with earrings from the firm, betting on asymmetrical, colorful or messages, characteristic of the firm, giving prominence in her styles, which she also shares in photos and videos in her profiles in her social networks.
New proposals and international shows.
The designer of the firm from Tenerife, Ros Jiménez, has created, under the French name 'an eternnel recommençement', a set of exclusive pieces for the FW19 haute couture collection and which she has exhibited with great success in the Haute Couture Week of Paris by the international fashion firm Yolancris.
The Roselinde firm
Roselinde is the jewelry and accessories firm created by the designer from Tenerife Ros Jiménez that is characterized by original pieces, unique personality, exclusive and sometimes personalized. Roselinde always follows the latest trends from a very personal perspective that adds an exclusive touch to the pieces. Among the values ​​that characterize the firm is exclusivity, the creation of trends and handmade and personalized production.
Throughout these ten years of experience, the firm has presented two annual collections under various themes and original concepts that make clear differences between some collections and others.
The choice of materials, colors and designs in each of them is marked by the different trips that Ros Jiménez has made in a continuous search for inspiration translated into unique pieces. The light of the Canary Islands and the influence of the natural landscape has been another constant when creating these multifunctional pieces designed for a modern woman who wants to make a difference.
The designs can be purchased at the online store www.roselinde.net and at the Roselinde points of sale